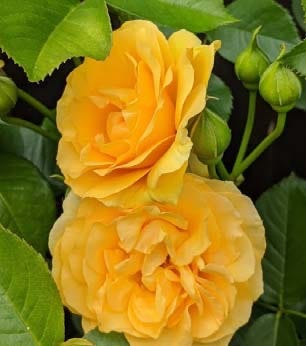 Apr 22 • 18M
Top 10 Fragrant Roses (in the Podcast)
Top 7 Modern Fragrant Roses in the Newsletter (space limitations)
A deeper dive into what was discussed in the Garden Basics with Farmer Fred Podcast
As we learned in Episode 186 in the Garden Basics with Farmer Fred podcast, the most fragrant roses make the best meal. Really. Well, maybe not a meal, more like an appetizer. Master Rosarian Debbie Arrington of the Sacramento Rose Society explained that rose petals are actually quite delicious, either served raw in a salad, used as a garnish, or steeped into a tea. Listen to her tips for choosing the right blooms for your rose tasting experience in Episode 186 of the Garden Basics podcast. One of her tips: fragrant roses tend to be the most tasty. Her most important tip: "Don't eat rose flowers that have been sprayed with pesticides." Listen to her suggestions for fast food floribundas in the current podcast (186).
So, what are the most fragrant roses to choose for your dining experience? In this newsletter podcast, above, another Master Rosarian, Charlotte Owendyk of the Sierra Foothills Rose Society, offered her Top 10 roses that are a show for noses. And below, is part of Charlotte's article for the Sacramento/Sierra Foothills Rose Society's newsletter about fragrant roses. Clear your nose, let's go!
Fragrant Roses…A Few That I Grow
by Charlotte Owendyk (excerpted from the June 2021 Rose Reflections Newsletter)
Watch someone walk by roses displayed at a rose show. First, there'll be an exclamation over color or beauty, but, inevitably, the head will lean in towards the rose in order to sniff its scent and rise with either a smile or expression of disappointment.

Yep, we all want fragrance in our roses. This usually is especially important if you only have space for a few roses in your garden.

The aroma of roses is due to more than 300+ volatile chemical compounds. In addition, there are times when roses are more fragrant than other times. The best time to smell your roses is in the morning when the tem- perature is about 65 - 70 degrees (F). As the day gets warmer, the fragrance oils evaporate. Another factor in fragrance perception is the fact that no two noses are the same!

When the hybrid tea rose became the rage earlier last century, breed- ers aimed for large, high-centered hybrid tea blooms as well as new and different colors. Cut-flower rose cultivars for florists were selected for long vase life,flower shape, and color. In both cases, fragrance was incidental.

However, the old garden roses (OGRs) continued to sell because they were great garden plants and many of them have outstanding fragrance. In many cases, it was the fragrance that sold the rose. And many of these OGRs, unlike hybrid teas which bloom all season long, only bloom once a season.

In 1985 a paradigm shift occurred; David Austin, a farmer in England, succeeded in breeding fragrant OGRs with repeat blooming roses to produce a whole new generation of fragrant repeat bloomers. Currently, David Austin Roses is a major hybridizer of repeat blooming roses that have fragrance and luscious bloom form. A typical example is Golden Celebration. Many members have a soft spot for these roses.

Hybridizers in the last 10-20 years have been working to incorporate disease resistance into roses. (It takes a minimum of 10 years for a rose to come to market.) Many of recent roses introduced are disease resistant to most fungal diseases.

Fragrance took a backseat to disease resistance. Now, breeders are more focused on including fragrance in roses.


MORE RECENT FRAGRANT ROSES
Firefighter – a dusky red velvet hybrid tea that is disease-resistant, with intense old rose fragrance. It is named in honor of the firefighters who lost their lives on 9/11/01. It is very productive, generating long straight stems which are almost thornless, and fragrant until it falls apart. Is an excellent cut flower. This rose grows tall.
Francis Meilland This rose has amazing sweet strong fruit and citrus rose perfumed blooms on long stems. Also winner of many awards in America and internationally. It is also tested and proven highly resistant to blackspot in a variety of climates. The bush is covered with dark green glossy foliage. Francis Meilland stood out to me because it's a heat lover, grows long cut-worthy stems, has massive blush to white blooms, some of the most fragrant blooms. Its form is actually more of an old fashioned type rose and not your average hybrid tea.
Julia Child ‐ Just before our wonderful American icon left us, she selected this exceptional rose to bear her name. Julia loved the even butter gold color & the licorice candy fragrance. To top it off it has a perfectly rounded habit, super glossy leaves & great disease resistance. Consistent, hardy & floriferous in all climates. Very disease resistant. The blooms do fade a bit.
Memorial Day Lovely orchid pink hybrid tea rose with enormous old-fashioned full 5-6" flowers (petals 50+) saturated with super-strong classic old rose fragrance. Long, almost thornless stems are lushly adorned with clean green leaves on a continual blooming plant. Just one flower perfumes an entire room. All-American Award winner. This is my #2 favorite rose.
Pope John Paul II–Beautiful clear white blooms with approximately 45 petals de-
light the nose with a strong citrus fragrance. Dark green glossy foliage is disease
resistant. The bushy plants tops at 4 feet. DO NOT prune hard. Just de-twig and kind of shape the bush. Next season you will be surprised at the results. This is my #3 favorite rose.
Secret – My favorite rose! Produces lots of lovely creamy blooms with pink on the edges of the blooms when the petals reflex shows a touch of gold which provide a
glow to the fragrant strong spicy scented blooms. Secret repeats blooms quickly and has glossy bright green foliage that is very disease resistant. Great cut flower.
Princess Alexandra of Kent - The unusually large, bright pink flowers are full-petaled and deeply cupped. In spite of their size, they are never clumsy, being held nicely poised on a well-rounded shrub. There is a strong and delicious fresh Tea fragrance, which changes to lemon, eventually taking on hints of blackcurrants. The blooms handle our heat well.
We will highlight more of Charlotte's favorite fragrant roses in next week's newsletter.
Thank you for listening to the 

Garden Basics with Farmer Fred podcast

! It's available at

gardenbasics.net

or wherever you get your podcasts. Please share it with your garden friends.
Fred Hoffman is also a University of California Cooperative Extension Master Gardener in Sacramento County.