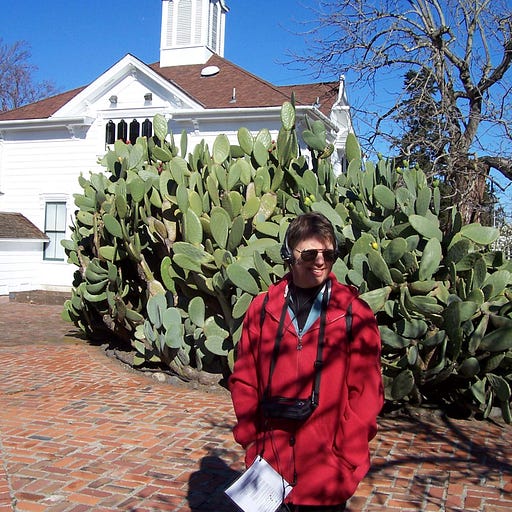 Apr 1 • 10M
A Visit to the Luther Burbank Gardens
But really, this story is about the docent we talked to in Santa Rosa.
A deeper dive into what was discussed in the Garden Basics with Farmer Fred Podcast
Above is an interview about the Luther Burbank Home and Gardens in Santa Rosa, California. Luther Burbank, of course, is probably America's most famous botanist, horticulturist and pioneer in agricultural science.
He is responsible for the development of over 800 varieties of plants in his 55 year career of plant hybridization, his most famous, possibly is the Burbank Russet potato, which is still available in supermarkets and restaurants every day. His biggest flower achievement? Probably the Shasta daisy. And his fruit tree introductions included the July Elberta peach, the Santa Rosa plum, the plum-apricot cross, the plum-cot, and the freestone peach, many of which are still in commerce. One of his most lucrative developments that you will hear about in this interview is the spineless cactus, which is valuable as cattle feed in drought-stricken areas.
Yes, you're going to learn a lot about Luther Burbank here.
But also, listen carefully to the docent describing all of this during our visit to the Luther Burbank Home and Garden: Jack Hadley. I conducted this interview years ago, back in 2006.
My method of operation for conducting many of these "on the road" garden interviews is fairly haphazard: driving to a destination, I'll see something interesting along the way. I'll pull over, get out my microphone and recorder, and grab the first person who knows something about wherever I am - and is willing to talk - and I then turn on the recorder. It was just my good fortune to be talking to Jack Hadley that day in 2006. Jack passed away in 2013. Jack, although very informative, didn't talk about himself in our conversation. I wish he had. It was only after reading his obituary that I came to the realization that here was a person I wish I had known better. If you are in the habit of reading obituaries, you may occasionally have the same reaction: "Wow, what an interesting person who lead a vibrant life. I wish I knew them."
Give a listen to the interview, and then read this edition of the Garden Basics newsletter, or do both at the same time. We will tell Jack's story in the newsletter, along with his invention of an item that may be in your garage or garden shed right now: the hand-held, Whirlybird-style fertilizer and seed spreader, which he developed as an employee of Ortho, the long-time garden chemical division of the Chevron corporation.
I have a feeling that Luther Burbank and Jack Hadley would have been good friends.
Here are some of Jack Hadley's life achievements, as written about in his obituary from Legacy.com, published in the January 8, 2014 Santa Rosa Press Democrat:
"Jack Hadley, a longtime Santa Rosa resident, beloved husband, father, U.S. Navy veteran and inventor of the "Whirlybird" hand-held fertilizer-spreader, passed away on Dec. 29, 2013. He was 88. The oldest of four boys, Jack was born in Martinez, CA on Dec. 15, 1925. He attended Nichols Elementary school and Mt. Diablo High School in Concord, where he excelled in football. He graduated in June 1944 and was drafted into the U.S. Navy. He was assigned to the USS Colorado BB45 battleship in Leyte Gulf, Philippines and was anchored in Okinawa when the atomic bombs were dropped on the Japanese cities of Hiroshima and Nagasaki in August 1945. They were assembling to invade Japan when World War II ended. He was discharged in June 1946 and attended Marin Junior College where he excelled in football as a half back and fullback. His hopes were fulfilled when he received a full football scholarship to Oregon State College (now OSU) where he studied agriculture. He hoped to run a cattle ranch. After redshirting in 1947, Jack suffered a severe dislocation of his shoulder in 1948 while playing linebacker, an injury that ended his football career. But he didn't slow down, riding bareback in the College Rodeo and winning first place in 1949. After graduation, Jack joined Chevron Chemical in 1951 as a livestock specialist. In 1952 he met and fell in love with Aneta Nygren, and three months later they were married. They had their daughter, Shellie, in 1953. Later Jack was in product development working his way up to Western Regional Manager. He worked for 36 years for Chevron Ortho Division where he invented the "Whirlybird," a hand-held fertilizer spreader. More than 100 million Whirlybird spreaders have been sold to date. Jack was known for his enthusiasm, can-do attitude and his positive and sincere outlook on life. He loved people, and they flourished when around him. While working for Ortho, Jack designed and built five homes on weekends. He was a powerhouse of creativity and energy. Jack retired in December 1986. After years of living in San Rafael, he and Aneta moved to Santa Rosa in 1987. Jack designed and built a beautiful dream home for them overlooking Sonoma Valley. Jack volunteered with "Ideas to Market" an inventors group, and later was recognized by the city for his work at Luther Burbank Home and Garden."
Some of the comments left by Jack's friends and family on that obituary page reinforce and expand on much of what you just read:
"Jack was a kind and generous soul, always cheerful and always with a good idea. It was my pleasure to know and work with him as a fellow volunteer at Luther Burbank Home & Gardens."

"All who knew him loved him! Hope you are spreading your wonderful good cheer wherever you are now, Jack."

"He has a special place in our hearts, as he stood tall during the goood and not so good times."

"Jack was a beloved boss and mentor of ours when we worked for him at Ortho. What a wonderful man, this world won't be the same but heaven is rejoicing in his coming home!"

"Always a kind word, how you doing, with a laugh. Happy memories . Laughing, smiling. Always so sweet."

"He will always be remembered as the spark plug that ignited Chevron and made it the envy of the industry. Jack was the best at everything..the best."

"Jack was an overwhelming personality who could not accept a "NO, Jack" on a regulatory or label issue. The Ortho family will miss him. He was a treasure."

"Never a happier man than Jack. I am a better person for having worked for and known Jack Hadley."

"I remember Jack when they were very involved and great volunteers at the Burbank Home & Gardens. He had such a positive and helpful attitude about everything."

"A great man and a great life. He left an indelible mark on so many. I was blessed to have the opportunity to witness his leadership skills for 10 years."

"Mr. Hadley was one of the best I've ever met. He was always so kind and had the nicest smile and could light up a room with those eyes. He will definitely be a shining star up above."

"Jack was a mentor for many of us. For me he was both a professional and personal friend who taught me much about work and life."

"Jack was a wonderful man one of the best I ever worked for. He was always in high gear and full of life. he will be missed!"

"I loved working for Jack at Ortho. He was my hero and role model."

"Even in his 80s Uncle Jack was a delight and bubbling with life. His LOVE of family and the world around him was intoxicating...a "Hadley trait" I hope transcends generations to come. Love always Uncle Jack."

"Jack was a wonderful man and such a fine human being. Always positive and seeing the good in life, unfailingly kind and ever a gentleman. I always felt happy when I was around him, because he was so cheerful."
As I am compiling this, it's getting a bit misty in here. I bet you wish you knew Jack Hadley better, too. My interaction with Jack was brief; but I'm glad to be able to share with you my few minutes chatting with him, all those years ago. You'll never be able to think about your Whirlybird fertilizer spreader in the same way.
As an Amazon Associate, I earn from qualifying purchases from some of the underlined links in the newsletter. This is how I am trying to keep this a free newsletter. And as long as you buy whatever you want from Amazon using any of those links to get into the Amazon site, I get a few pennies. Thank you.
Thanks for Subscribing and Spreading the Word About the Garden Basics with Farmer Fred newsletter, I appreciate your support. 
And thank you for listening to the 

Garden Basics with Farmer Fred podcast

! It's available wherever you get your podcasts. Please share it with your garden friends.
Fred Hoffman is also a University of California Cooperative Extension Master Gardener in Sacramento County.